After I put up my recent review of The Craft my good friend Reece got in touch to suggest an idea for a new post. Films that could come back as TV shows, using The Craft as a very good example. It would make a very good TV show and could expand on the original film in an interesting way. It's already tried and tested with Charmed and Buffy, so there is evidence that something like it would work.
This really got me thinking because there have been a few films that I've seen over the years where I do wish there was more. Something like the recent Prisoners of the Ghostland builds an interesting world but we don't get to spend enough time there. I think the recent Aretha Franklin biopic would work better as a TV series because you could spend more time with each moment, rather than jumping from important life moment to important life moment. I've chosen five films to talk about that I think would make great TV shows and why.
1 – Escape from New York
This is a great film that has dated a little but is still entertaining to watch. I'm not sure who could replace Kurt Russell as Snake Plissken, if that's even possible. This would work great as a one season show since the plot is already kind of split up into episodes. There's Snake getting to New York, going to the theatre, being captured, and having to fight, the great escape. Spending more time with each of these events would only be a good thing. The city of New York in the film is also interesting and I would love to see more of it. I also think this would work really well as an open world game. If you don't know the story, New York is turned into a prison and Snake is given a plea deal to go in and save the president who was shot down in a plane. He has a time limit to get in and get him out, or he dies. If this did happen as a TV series, it would need to keep John Carpenter's score – that's my only request.
2 – Akira
I absolutely love Akira, both the anime film and the manga it adapts. The film is incredible, but it does shorten the story and cut out some key moments. This would work so well as a TV series, again only one or two seasons. It's an epic story that covers 6 volumes of manga, so it makes sense for the next adaptation to be a TV series, rather than another film. It's a dystopian world and you could spend time exploring areas that are untouched in the source material. I would be very excited about this if they made it.
3 – The Dark Tower
The film adaptation of Stephen King's epic 7/8 (depending on if you count The Wind Through the Keyhole) volume book series is a mess. It tries to shorten down around three thousand pages of plot into 90 minutes, while at the same time claiming to be a sequel to the original novels. It's awful, badly paced and such a shame because Idris Elba and Matthew McConaughey are excellent. I would like to see the cast kept but the story completely rebooted as a 7 season TV show, akin to Game of Thrones in scale. It would be a hit, and everyone would be talking about it. I don't understand why in the modern world we have so many connected universes across films and TV but no one has created a proper Stephen King universe. He did that himself in The Dark Tower. There's a sequel to Salem's Lot in there, a moment that touches on The Stand, IT and so many other classic books. Why doesn't this already exist on TV?
4 – Mortal Engines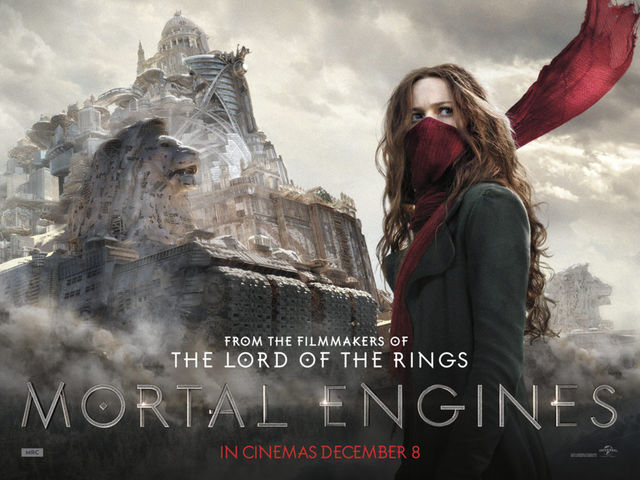 I quite liked the film for Mortal Engines. The effects were good, the story was nicely paced. It worked for me, but I know a lot of people hated it. A lot of the fans of the original books hated it, and that's because again it tries to condense to much into a short film. The world is so interesting, this should be an epic TV series, that spans multiple years. The 100 exists and lasted. Mortal Engines could do the same, adapting the books at a slower pace while also expanding on what is already there. Whenever something I really like it adapted into something that fails, there's a certain type of sadness, because I know it's going to be years until someone tries again. There has to be someone out there that loves the original books and is willing to do the series justice.
5 – Clerks
I know we are getting a Clerks 3 very soon, but I think this would work great as a 20-minute sitcom. Every week could be a new day in the store with the adventures of Dante and Randall. The regulars the odd one-off customers the arguments and friendships. That's what happens at work, every day is the same but slightly different and it's the people around you that makes it like that, Clerks would work perfectly like this, and I would tune in every week. It would have to have a scene every episode with Jay and Silent Bob outside the store, it doesn't need to be focused on them, but they need to play a part in it, however small. Kevin Smith also wrote and starred in Hollyweed, which was like Clerks as a TV show set in a weed store in L.A. but as far as I'm aware it never got off the ground properly, still an enjoyable first episode that was released online.
So, there's my five films that I think would work well/even better as a TV series. Reece suggested The Craft, which is an excellent choice. Let me know in the comments below what your choices would be.
Thanks for reading and until next time,
Ashley