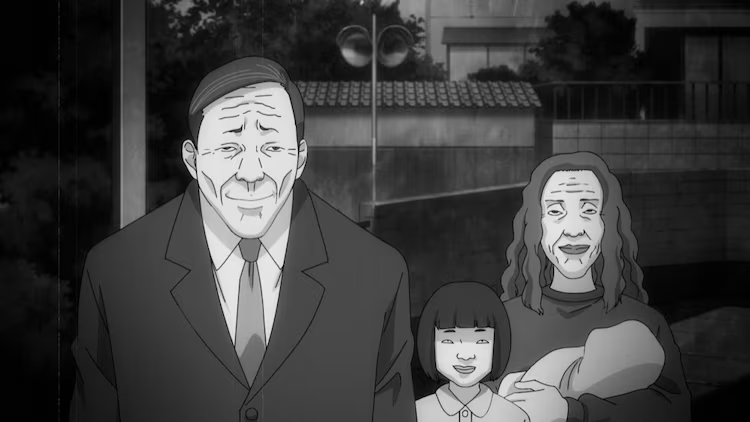 Episode of Junji Ito Maniac contains the stories Mold and Library Vision. While yet again, there's no reason their paired together, this is one of the better episodes of the series so far. It's definitely the best of the double-story episodes.
The first story, Mold, follows Akasaka who comes back home from abroad and finds that his perfect house is a complete mess and covered in mould (I'm from the UK so I have to spell it this way even if the title has the American spelling). As he cleans up the house, while also asking his brother what happened, the house seems to get dirtier and dirtier around him. There's some really horrible imagery in this one such as where he puts his fingers into the mould. It's horrible to think about. Later in the episode as the mould spreads further it's absolutely horrific. It's completely unsettling and gets under your skin exactly as you'd expect from a story about mould. It's a great short story.
Library Vision is about Goro who has an extremely large library in his house. He awakes from a dream where his collection is going missing, to find that one of his books, his mum's favourite, has actually gone missing. He then notices others are missing and slowly goes insane while trying to find his lost treasures. This story has a dreamlike quality about it, reflecting Goro's mental state, and it's quite intense. Goro struggles with the missing books and sets forth to commit everything in his collection to memory. It's a sad story that has some creepy moments, especially the figures that appear just to recite the missing books to him, where you're not quite sure if they're real or Goro's suffering from hallucinations.
This episode is creepy and unsettling and has some really freaky moments that could fuel more than a few nightmares. It's let down by some shoddy animation in places, but the writing shines through and still manages to be chilling. Neither story feels unfinished or rushed, which is refreshing this far into the series. This marks the half-way point of the anthology series, hopefully this is a good sign of what's to come.
Thanks for reading! If you liked my review, please subscribe to never miss a post: