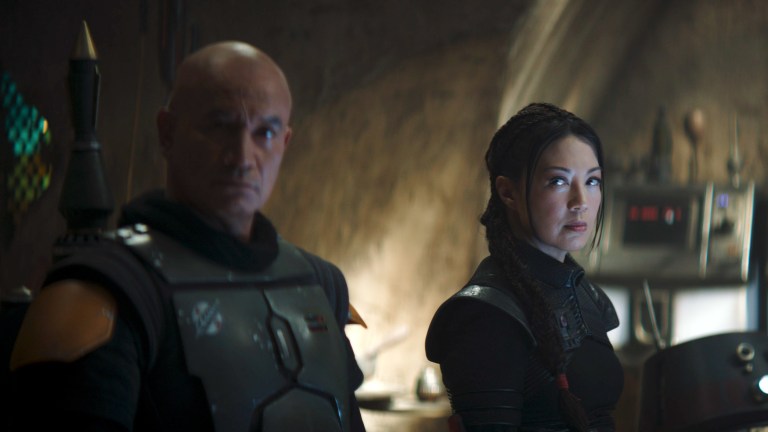 Director: Dave Filoni
Writer: Jon Favreau and Dave Filoni
Starring: Temuera Morrison, Ming-Na Wen, Pedro Pascal, Timothy Olyphant, Mark Hamill, and Rosario Dawson
Rating: ★★★★
Much like last week's episode of The Book of Boba Fett, chapter 6 doesn't feel like it's part of the same show as the first four episodes. That's mainly because Boba Fett (Temuera Morrison) is barely in it. He wasn't in chapter 5 at all, and in this week's he's barely a cameo. Instead, it focuses again on The Mandalorian (Pedro Pascal), showing him seeking out and finding Grogu.
It's hard to talk about this week's episode without giving things away, so be warned there are spoilers ahead. The Mandalorian quickly finds Grogu in this episode, who is being trained by Luke Skywalker (Mark Hamill) in the ways of the force. The digital de-aging of Luke Skywalker is phenomenal and somehow even better than it was in The Mandalorian. There's something still a little distracting about it at first, but it's still really good and once you get used to it then it's not a problem.
While in The Mandalorian Luke's appearance felt more like a send-off, this time around he's a vital part of the story, appearing in more than half the episode. It doesn't feel like his story is over here either. It also feels like you can see how Luke goes from Return of the Jedi to The Last Jedi here. There's a disregard to Grogu shown here, when Grogu has a flashback of jedi being butchered, there's no empathy from Luke. Like the viciousness of the Luke's appearance in The Mandalorian there's a lot of his father on show here. It's really interesting to see his character arc more fleshed out with missing details being uncovered.
Appearing alongside Luke and Grogu is Ahsoka (Rosario Dawson), seemingly setting up her spin-off. It's great to see these characters again, even if the story they're part of seems completely unrelated to the one The Book of Boba Fett was setting up originally. There's a couple of other familiar faces that make an appearance as well, one of which will make any Clone Wars fan rejoice. The episode is co-written by Clone Wars writer Dave Filoni, possibly the biggest Star Wars fan in existence, and it's no wonder that he brings back some of his creations into live action.
Overall, the episode is just great Star Wars. It's beyond bizarre that we've spent two entire episodes of this series away from Boba Fett, especially when there's only seven episodes to begin with. It's also a shame that those were the best two episodes of the series. The finale has to bring everything back on track, and it has a lot to live up to while doing it.
Thanks for reading! If you liked my review, please subscribe to never miss a post: