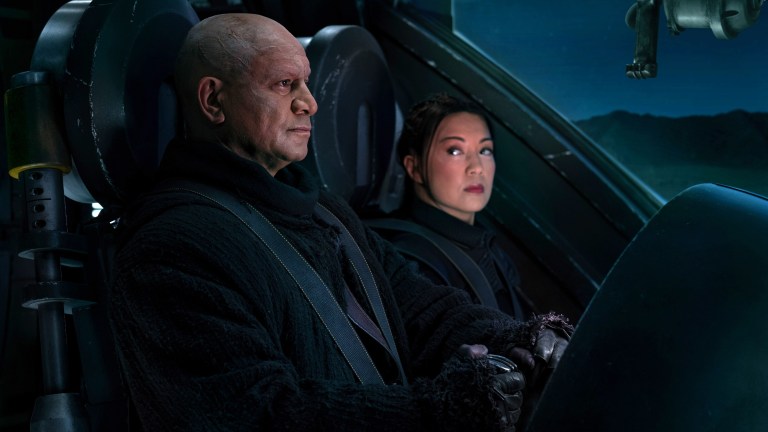 Director: Kevin Tancharoen
Writer: Jon Favreau
Starring: Temuera Morrison, Ming-Na Wen, Matt Berry, Carey Jones, Jennifer Beals, Marlon Aquino, Phil LaMarr, Barry Lowin, Matthew Wood
Rating: ★★★★
With chapter 4 of The Book of Boba Fett, we're now over half-way through the first season. Like episode two, the majority of this episode is flashbacks, leading up to Fett's (Temuera Morrison) arrival in the second season of The Mandalorian. Unlike episode two, the flashback doesn't feel as drawn out and it feels like it's genuinely filling in blanks in the story that was left over from The Mandalorian as well as propelling the series into the final three episodes.
It does look like the flashbacks are over now. We even see the scene from the finale of season 2 of The Mandalorian, with Fett claiming the throne in what was once known as Jabba's palace, so it's come full circle. The flashbacks that we do get are fast paced and picking out the vital moments of Fett's story. The meeting of Fennec Shand (Ming-Na Wen), the reclaiming of his ship, Slave 1, trying to get his armour back, and claiming the throne.
Boba teaming up with Fennec to sneak into the palace to reclaim his ship is an absolute blast. They have to take on a chef robot that wields knives in a similar fashion to General Grievous handled lightsabers in Revenge of the Sith. It's an exciting and thrilling scene, as is the one immediately afterwards where Boba gets revenge for what happened in episode three to his Tusken friends.
Most importantly there's a really good moment of character building for Boba Fett where he enlists Fennec into his mission. At first it was a little confusing to see a kinder Boba Fett in this series compared to what was hinted at in the original films, but then again, we got like, ten minutes of screen time with him and little to no character development? His character was given a deeper dive during Attack of the Clones and The Clone Wars, but this is an older Boba Fett. Watching his development through the flashbacks over the first four episodes has been interesting, and it all comes together in episode four. It feels like a new beginning as he steps out of his healing tank for the final time, and the last three episodes are going to be excellent.
The final ten minutes are the only scenes that aren't part of the flashback storyline, and it's essentially just setting up what's to come. Chapter 4 is an excellent episode and it feels like the best is still to come.
Thanks for reading! If you liked my review, please subscribe to never miss a post: