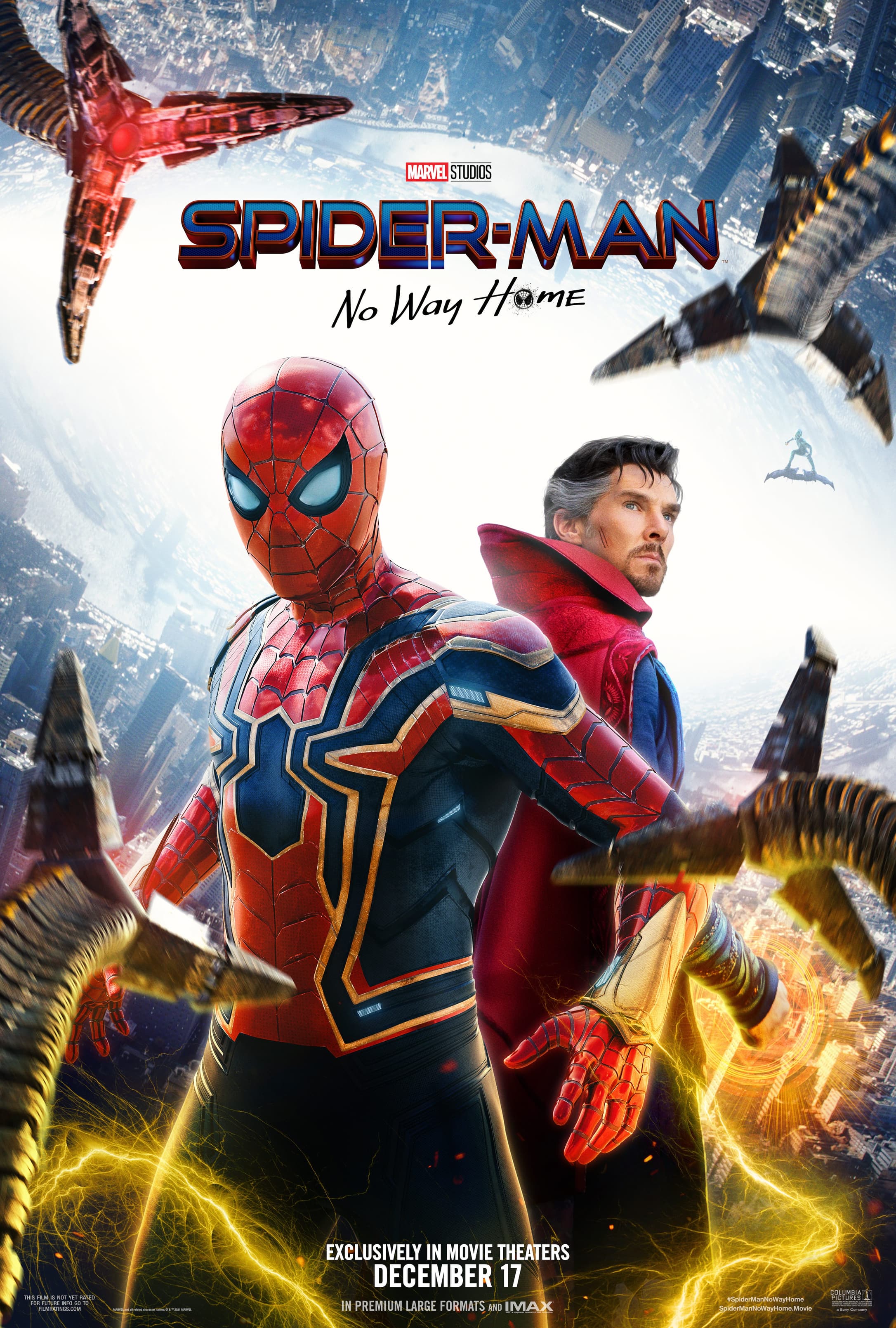 Director: Jon Watts
Writers: Chris McKenna and Erik Sommers
Starring: Tom Holland, Zendaya, Benedict Cumberbatch, Jacob Batalon, Jon Favreau, Jamie Foxx, Willem Dafoe, Alfred Molina, Beneditct Wong, Tony Revolori, and Marisa Tomei
Rating: ★★★★½ 
Spider-Man: No Way Home has definitely been one of the most anticipated films of all time, and now it's finally here. That incredible cliff-hanger from the ending of Far From Home was the biggest tease to Marvel fans around the world and it feels like an eternity has passed since then. Not only does No Way Home live up to the hype, but it also has some genuinely surprising and touching moments. Don't worry, there will be absolutely no spoilers going forward.
Picking up exactly where the previous film left off No Way Home doesn't waste any time in getting going. It starts at full speed and doesn't let up at throughout it's almost two and a half hour run time. It's pure adrenaline action that's entertaining and thrilling with plenty of moments that will have you on the edge of your seat. It's also surprising how emotional the film is. It's been a little under six years since Tom Holland made his first appearance as Spider-Man and his sixth film in the role to date, we've spent so much time with him and there are some heart-breaking and tragic moments.
It's a Marvel film, so it obviously has some incredible production values. The effects are genius, the action looks incredible. There's not one moment where you're aware that almost everything you're watching is filled with special effects and CGI. It looks real and you're completely sucked into the world again. The action is incredibly shot as well, it just looks so great to watch. It's funny and thrilling all the way through.
Tom Holland is a really good Peter Parker/Spider-Man, and he does have some great moments in No Way Home, there are some emotional moments at points that really work because of the strength of his performance. Despite this, Holland is outshined by some of his co-stars. Benedict Cumberbatch has never felt more in character as Doctor Strange and it just intensifies the excitement for the Sam Raimi directed Doctor Strange in the Multiverse of Madness that's due out next year. Another highlight is Zendaya who is perfect as M.J., stealing almost every scene she's in.
One of the main reasons why this film has been so anticipated is the return of legacy characters from the Raimi Spider-Man trilogy and Marc Webb The Amazing Spider-Man duology. Willem Dafoe is incredible, just as he is in everything. Jamie Foxx really gets to shine as Electro. J.K. Simmons appearing as J. Jonah. Jameson is funny the first time he appears, but he does feel unnecessary as it goes on. Overall, the returning cast is a real treat for all of us who grew up watching these films.
No Way Home is the perfect reason to return to the cinemas and judging by how full the screening was a lot of people agree. Its action packed, a fun thrill-ride from start to finish and the perfect ending to the Spider-Man trilogy that started with Homecoming. It's a hard film to really dissect without going into spoilers and this is one that you don't want spoiled.
Thanks for reading! If you liked my review, please subscribe to never miss a post: