2021 has been a fantastic year for horror fans. There's been so many great releases, both big and small. Ranging from the typical slasher to the strange and bizarre. Before writing this list, I rounded up every horror film I've seen that was released in 2021 and listed them. It's a total of 41, and I know there are others that I haven't seen. An exceptional year, so without wasting anymore time here's my top five horror films of 2021
Honourable Mention – Slumber Party Massacre
Something that I didn't expect to end up anywhere near this list before I watched it, and while it just missed the cut it's a lot closer than I expected. It's a really clever and well-written parody of slasher films, while at the same time being a slasher film. I've not seen the original, but from my understanding it was supposed to be a parody and was turned into a standard slasher by the studio, so the 2021 version is a lot closer to the original intention. I really thought this was going to be boring and typical when I started it, then it switched things around in a really interesting way. It's a perfect film for horror fans and a hell of a lot of fun.
5 – Malignant
One of the most divisive horror films of the year, without a doubt. The new James Wan horror shocked audiences when it was released, with some loving it's strange and weird twists, while others thought it was silly. I really enjoyed it. Yes, it was over the top, yes, the twist was a little silly, but I feel like it stuck the landing. It committed to being as far out there as possible and it worked. Wan threw everything at the wall and a lot of it stuck. The only reason it's not higher is because I feel once the twist happened the tension was completely gone. I was unnerved for the first half of this and I think it got silly as it went on. It's still something I want to go back to again.
On a side note, when I put my review up for this film it became my most read post ever in about 2 days, doubling my next most read one. It's been beaten now, but at the time my views skyrocketed, and I think it's purely because it was so divisive, and people were out looking for any opinions on it – for or against.
4 – The Night House
There's a sequence in The Night House, that may be the most scared I've been in the cinema ever. I'm not going to spoil anything, but the way the camera was moving, the sound and what was happening had my heart racing. It's one of the only things I've seen where people were screaming at moments. It's a really tense film, that I feel is kind of let down by the ending. It doesn't feel complete and that's a real shame. The build up is excellent and I really enjoyed it for the most part. The lead up to the final moment is also great, it's just the final moment itself that doesn't add up to me.
3 – Last Night in Soho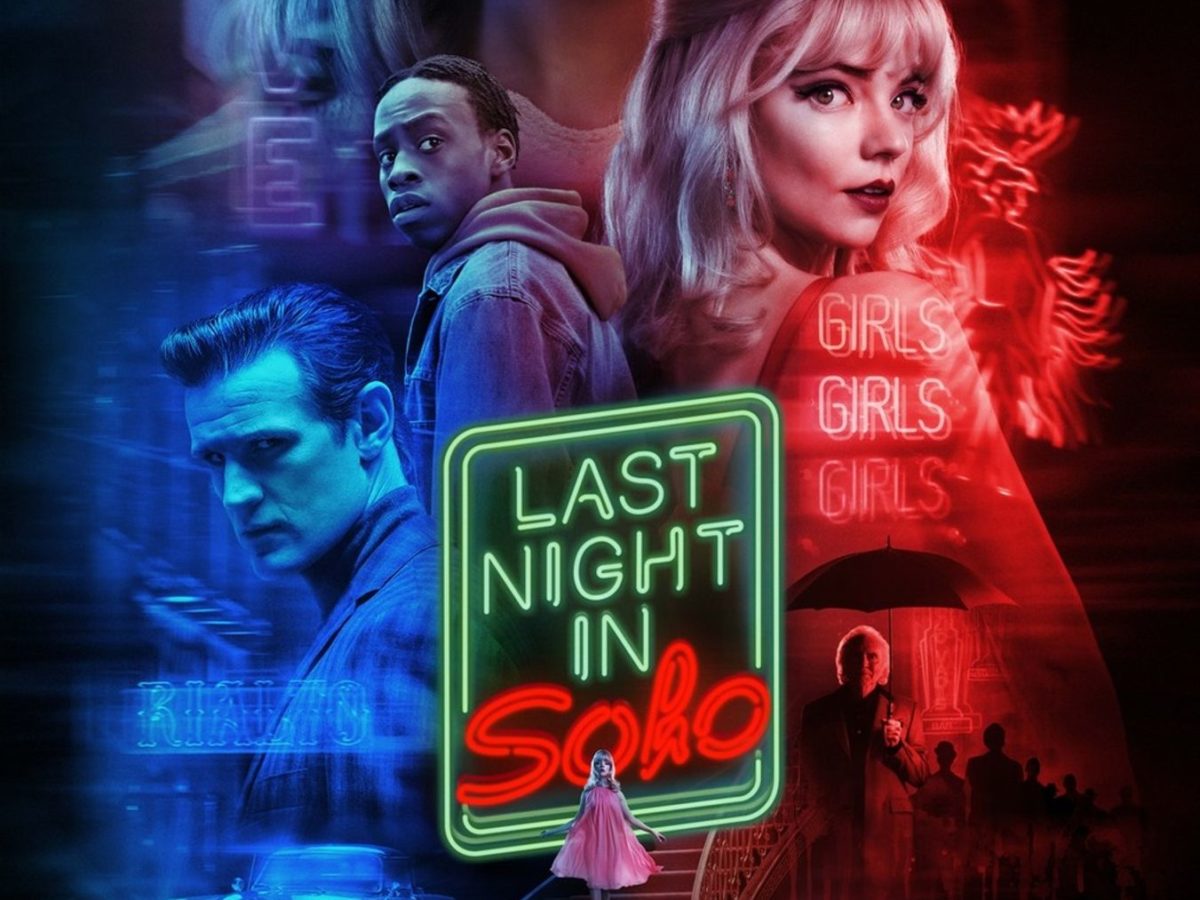 Edgar Wright's latest classic is a Giallo nightmare infused with 1960s London. The music, the outfits, the visuals. It's all brilliant and just has everything in it that I love. I've had Edgar Wright's playlist that he made on Spotify on while working and can't get enough of it. The twist in this film is something I didn't see coming at all and it really worked for me. I know some people didn't like it, but it really clicked with me. There's a specific shot in the film that really felt like something out of an Argento film. It's bloody, violent and creepy. It's very jumpy as well, but not too much.
2 – Censor
Earlier in the year, I spent a fair bit of time making my way through early 1980s horror films, that would have been classed as 'video nasties' in the UK at the time. Films that were censored or banned outright. So, something like Censor felt like it was made for me. There's a good portion of this film that's just Enid watching horror films, with her glasses acting as a barrier, and making notes about what should be censored. I would have enjoyed it if it was just a drama about that, but then it turns into a horror film. It's really trippy and strange. It's a mind-melding film and that ending is just sublime. It really reminded me of Saint Maud, another horror that's just perfect. Censor is one hell of a film and a real treat for horror fans.
1 – In the Earth
This is something I didn't know what to expect from when I watched it. I'd read an interview with Ben Wheatley and thought it sounded interesting. Then when I saw it, I was blown away. It's so strange and unsettling and creepy, in the best way possible. It's an absolute assault on all of your senses, and something that I've never seen before. I know it sounds pretentious, but this is something that needs to be seen on the biggest screen possible with the best sound system possible. In the cinema, it felt like you were being attacked, the sound is throbbing, the visuals are flashing and glaring that it has its own seizure warning written into the film at the start and it's not a joke, this is relentless. Reese Shearsmith is absolutely perfect in this film. He's really unsettling while at the same time just as funny as he normally is. There's a joke that takes half the film to get to the punch line and it's so good.
So those are my top 5 horror films, and there's so many that I didn't talk about. Candyman, Spiral (the best Saw film since the original), The Conjuring 3, A Quiet Place II, The Forever Purge (The best of the series so far), Escape Room 2, Fear Street. So many great horror films. I don't think I've ever seen a year with so many great releases, but hopefully I will again. So I've told you mine, what's your favourite horror films of 2021?
Thanks for reading and until next time,
Ashley
If you liked this post, please subscribe below to never miss a new one: