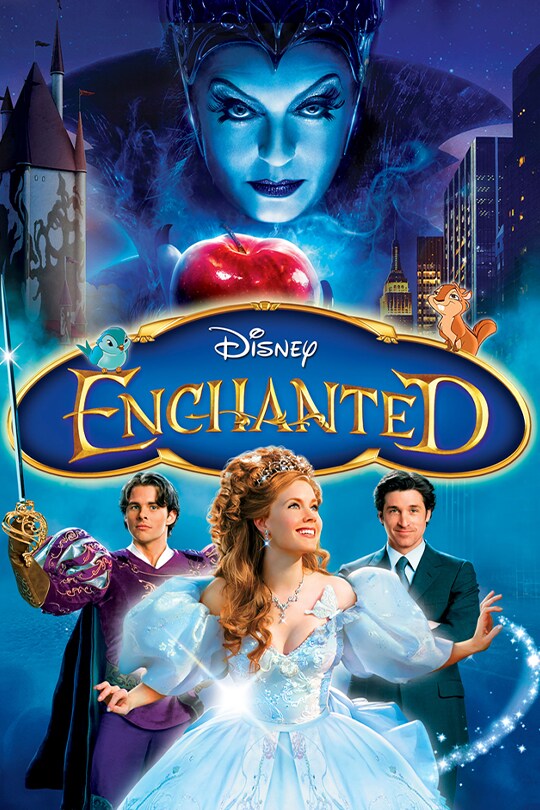 Director: Kevin Lima
Writer: Bill Kelly
Starring: Amy Adams, Patrick Dempsey, James Marsden, Timothy Spall, Idina Menzel, and Susan Sarandon
Rating: ★★★★
It's been almost a month since Disney+ day (November 12th), which marked the second anniversary of the streaming service launching in America. That day brought with it a whole bunch of new announcements about the future of Disney+, along with a whole bunch of new content – old and new. Among those was Enchanted, the 2007 classic which had been sorely missed on the service for the previous two years. Now that there is a sequel on the way, it's a great time to revisit Enchanted or watch it for the first time.
Giselle (Amy Adams) is an optimistic princess-to-be, destined to marry Prince Edward (James Marsden). Queen Narissa (Susan Sarandon), Prince Edward's step-mother, will lose her throne if the two marry, and to stop this sends Giselle to New York, in the hope that she is lost forever. Prince Edward follows Giselle into the strange world to save her, with Nathaniel (Timothy Spall) there to guide him.
Enchanted is a really well-written parody of the classic Disney animated films that we all grew up on. The start of the film is set in Andalasia, which is completely animated in the style reminiscent of Snow White. When they reach New York, which they enter through a manhole in Times Square the film becomes live-action, showing the real world vs the animated. All of the tropes of Disney films are here, including animals that help clean houses, which in New York are rats and cockroaches instead of deer and birds.
Amy Adams is beyond excellent as Giselle. She completely captures the innocence and naivety of the early Disney princesses without mocking them. This is exactly how the animated Snow White or Cinderella would act if they were brought into the real world. James Marsden is also great as Prince Edward, who is a little dumb, but lovable. He's not as heroic as he thinks he is, but it's still a fun character.
It also plays with the music that is usually in Disney films. There are a few moments in the film where characters break out into songs by Disney regulars, music written by Alan Menken and lyrics by Stephen Schwartz. One of the highlights is the song 'That's How You Know', where Giselle tries to explain how you know you're loved to Robert (Patrick Dempsey), the New Yorker who looks after Giselle. Robert doesn't quite understand why everyone around him is singing, blurring the lines between reality and fantasy.
Enchanted is a magical film that is still just as joyful today as it was when it first came out. It's smart and completely self-aware as a Disney parody while at the same time honouring the stories, we all love. The costume designs are excellent, as are the music numbers and characters. A real treat for all Disney fans.
Thanks for reading, if you liked this review, please subscribe below: